ID Quantique SA
You are here
Industry presence
BioAlps database
ID Quantique SA
Activity description: Secure communications based on quantum cryptography offering a long term security .
Project description: SwissQuantum project - deployment and demonstration of a pilot quantum network in Geneva.
Product/solution description: Pilot quantum network with three nodes in Geneva (CERN, UniGe and EIG). This is an innovation of global importance.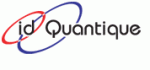 Domain:
Medical Devices, Electronics
Contact:
Ch. de la Marbrerie  3
1227 Carouge / GE
P: 022 301 83 71
F: 022 301 83 79

http://www.idquantique.com