Business & Decision (Suisse) SA
You are here
Industry presence
BioAlps database
Business & Decision (Suisse) SA
Business & Decision is an international Consulting and Systems Integration (CSI) company. It is a leader in Business Intelligence (BI) and Customer Relationship Management (CRM), and a major player in e-Business, Enterprise Information Management (EIM), Enterprise Solutions as well as Management Consulting. Business & Decision contributes to the success of customer projects by driving maximum business performance. The company has a reputation for functional and technological expertise and has forged partnerships with all of the key technology vendors.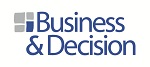 Domain:
Professional Services & Consulting, Quality
Professional Services & Consulting, Regulatory & Clinical Services
R&D Services and Technology Platforms, CRO (Contract Research Organization)
R&D Services and Technology Platforms, Technology Platforms (BioSystems, BioChips, BioMems)
Contact:
Rue de Lyon, New Tech Center, C.P. 328 109-111
1211 Geneva 13 / GE
P: 022 338 31 47 / 078 759 93 12 / 022 338 31 00
F: 022 338 31 01
http://www.businessdecision-lifesciences.com
Business Intelligence (BI) Business & Decision assists enterprises master BI and EPM technologies to provide improved activity visbility, enhanced targeted reporting and predictive analysis capabilities. Our services and solutions enable administrative productivity gains via the automation and standardisation of management processes (Finance, HR, Purchasing, and Marketing), with their respective operational and performance management processes and business or regulatory issues. Customer Relationship Management (CRM) Business & Decision draws on dual expertise in tools and business in the CRM field to help enterprises manage customer data (Analytical CRM) and standardise the processes that use this data (Operational CRM). Business & Decision places CRM at the heart of customers' information systems so that it becomes an essential part of customer value creation. E-Business / SI/SE Business & Decision possesses highly-qualified development teams for the SAP and Java environments. Together with our experienced project managers, we can make a success of any IT project, whether a custom development or a standard solution. Thanks to our certified expertise in the individual disciplines, together with our ability ? unique within Switzerland ? to offer both fields of expertise, we are the ideal partner for technology-neutral, innovative solutions on the Java and SAP platforms. Life Sciences Business & Decision Life Sciences has been an active consultant for the pharmaceutical industry for more than 20 years. We combine our certified experience in the areas of clinical research and development, CROs and validation with best practices from other business areas, while also using software and technology solutions from leading partners. Leveraging these areas grants our customers significant added value. Our international consulting teams work together seamlessly, in order to support both our local and international customers. Products & Services Supplementing our product range in the areas of BI, CRM, software integration and development, we also offer our customers well-founded management consultancy services and selected products.